Title:
The Piano Teacher
Author: Janice Y. K. Lee
Pages: 326
Genre: Fiction
Source: Grammy
What you'll love: Great blending of storylines, unique setting.
What will bug you:
Not much - I didn't enjoy Claire as a character very much.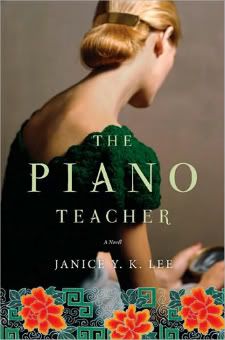 Hong Kong, 1942. Will Truesdale is an Englishman stationed in Hong Kong. Trudy Liang is half Chinese, half Portuguese, an elite socialite. The pair fall deeply in love, only to have World War II turn their worlds upside down.
Hong Kong, 1952. Claire Pendleton is newly married and finds herself living in Hong Kong after her husband is transferred there for work. She begins a passionate love affair which unearths decisions and choices which were made within the past ten years.
Grammy found this book in the sale bin at Border's about a year ago. After her repeated reassurance that it is fantastic I decided to give it a try. Lucky me. Loved it!
There was much about The Piano Teacher that was unexpected. I was pleasantly surprised how Lee painted Hong Kong in the 40's and 50's so well. The reader feels submerged in the setting, which was lots of fun for me to read, since it's a place I've never been.
I've been on a streak of books with these storylines that intertwine and blend together. I love it!
The Piano Teacher
will not disappoint in this area. You'll find yourself reading about the 50's and realize - hey! - the person being discussed just had a big part in the previous scene (10 years earlier). Great writing!
I loved Trudy. I'm not sure how mixed the feelings about here are out in the book world. I loved how she had sass, she was glamorous, yet I got the feeling right from the beginning that she was partially playing a part. Although she was a character from the 1940's, I feel like she could be dropped into present day and not miss a beat.
Claire, I'm not as big of a fan of. I found her to be aloof and ignorant - the worst possible combination. (...and I'm using "ignorant" to mean uneducated and/or uninformed - not stupid.) I found her transformation throughout the novel to be an interesting one, and I'm glad she finds herself.
I found that although the novel is called
The Piano Teacher
, it's really about Trudy. At least in my mind. I found Trudy to be the link between the past and the present - and the link between many of the characters.
What did you think?
An excellent read! Great recommendation, Grammy!