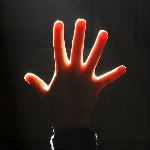 Welcome to The Friday Five!
The Friday Five is a weekly post in which I share with you the top five blog posts and/or articles I've read this week. Some are bookish, some are not - but all tickled my fancy!


1. A posting by Whitney on her blog "She is too fond of books". She did a great post this week called

Character Connection: Elphaba

.

I loved it because I
also
love Elphaba for similar reasons. In truth, as a child I had a major obsession with the wicked witch of the west!

2. Priya had a wonderful post on her blog this week - "The Plum Bean Project". It captured perfectly how I feel when I sort through my google reader every morning! The post was called

People Reading People Writing

. It's nice to know that there are others who feel like reading a blog update is akin to dropping in and saying hello!

3. An interesting post on John Elder Robison's blog "Look Me In The Eye" called
What happens to autistic kids when they grow up?
He talks about a new study - or rather the continuation of an older study - to answer this question.

4. A lovely Mother's Day post on "Missy's Book Nook". I had to include her post,

Happy Mother's Day - "We Used to Laugh..."

, because I've been thinking about it all week. Beautiful words.

5. A post from a great new blog I discovered this week called "Fed Up With Lunch: The School Lunch Project". This particular post,

Guest Blogger: Preschool Lunches

, was an eye opener for me. I am familiar with the "crash and burn" hours that a child experiences (from work - I don't have kids yet!) and it is a horrible thing to witness.

Enjoy, and have a great weekend!