Title:
Dracula in Love
Author:
Karen Essex
Pages:
384
Genre:
Fiction
Source:
Kindle
Why I picked it up:
I put it on my list after reading a review at Bibliophiliac.
What you'll love:
A great spin on a classic story!
What will bug you:
Everything about the asylum. Everything.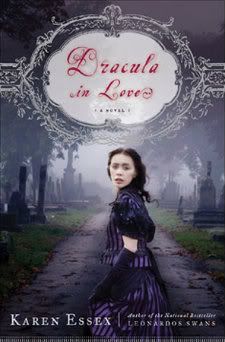 Bram Stoker's Dracula tells the story of Mina Murray Harker, a young woman who becomes Count Dracula's object of desire. Strong males come to her rescue and she is saved! Or so we've been told... Dracula in Love tells this tale with Mina as the author - and the true story is far different than the one with which we're familiar.
I love stories like this. Although my reading tastes don't always show it, I'm a huge fan of anything that has a slightly creepy feel - which is why I am such a fan of the original Dracula. It's not that I like things that are scary, because Dracula in Love wasn't - it's more slightly creepy that I like.
I thought this story was fantastic. It was so much fun getting to read a classic tale with familiar characters, only they're spun in a completely different direction. I found Mina to be almost slightly annoying at first, but was thrilled to see how she turned out in the end. It was also fun seeing the Count painted in a different light. I've always had a soft spot for the "villain", so getting a chance to see him not necessarily portrayed as such was a delight.
The story dragged a little for me when Mina was visiting Lucy. Of course that's kind of subjective - I was also reading this in short bursts, so it's possible I feel that way because it actually took a long time to read, not that it was long. If that makes any sense.
The scene in the asylum was just horrific. It feels even more infuriating because although this story is obviously a work of fiction, places like this actually existed - with people who are not insane, but perhaps more outspoken or eccentric than the norm (especially women). I thought the descriptions of the institution, and especially of the "water cure" were horrific. Fantastic writing.
It's been on my list for awhile - and I'm so glad to have finally read it!