Title:
A Clash of Kings
Author: George R. R. Martin
Pages: 968
Genre: Fiction, fantasy
Source: Kindle
Why I picked it up: Dennis' recommendation, and it's book #2!
What you'll love: Wonderful writing, great connection to the characters.
What will bug you: I still hate Joffery.
Dennis has completely hooked me on this series. I continue to be impressed by the writing and the quality of character development. Of course I committed one of the ultimate sins - not posting right away. Some of the sharpness will be lost, unfortunately.
As with A Game of Thrones, I think the best way to discuss this book is by character. So here we go...
Arya -
Arya has quickly become my favorite character. This girl has grit. I continue to be impressed with her resolve and ability to face tough situations. I especially enjoy seeing her transformation upon her arrival at Harrenhal. I predict she will become more and more important as time goes on.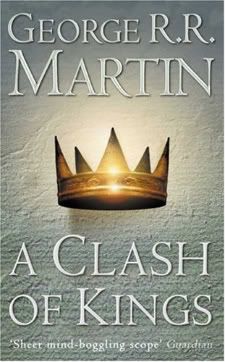 Sansa -
Oh, Sansa. I think she has really seen the light - Joffery is a total dick, and it's a full time job avoiding his bad temper. She's really in a tough position. I can't imagine being in the middle of the snake pit 24/7. Perhaps she has some grit, just in her own way. I'm still trying to puzzle out the significance of the direwolves and the fact that hers is the only one to be destroyed.
Tyrion -
I grow to like Tyrion more and more. I realize he's on the side of the enemy, but I'm not really sure his loyalties are to the Lannisters - I think he's more loyal to himself and his own sense of morality. He has an excellent sense of who his sister really is, and how to keep somewhat of an upper hand. I respect that he uses his mind to get what he wants rather than sheer force.
Bran -
I had a few scary moments with Bran in this book. He's a great kid. I continue to predict that his contributions will need to be of the mind rather than of the body. I think there were some great twists with Bran in this book - and some moments when things certainly feel "fantasy", which actually doesn't happen all that often in this series (at least not yet!).
Jon -
I'm really excited to start the next book and see where Jon's narration goes. I think he grows a lot in A Clash of Kings, and I continue to predict that he will end up with a far more central and involved role as time goes on.
Catelyn -
Catelyn is an interesting character - I don't think she likes feeling cast aside. I really enjoyed reading about her conversation with Jamie. I wonder if she will see her family together again.
Davos -
A new and interesting character that gives us some inside perspective on the red woman.
Theon -
This guy is the lowest of the low. At least the Lannisters are predictably out for themselves. Theon is just a disgusting human being, and I won't say anything else lest I give away too much.
Daenerys
I predict a love affair between Dany and Jorah. If I were in her shoes, I'd live out my life as a princess with my clan. There is definitely some fantasy elements to her character, and I look forward to see where it takes us.
A great sequel. See you at the end of book 3!