Title:
Like Water for Chocolate
Author:
Laura Esquirel
Pages:
245 (FYI it's a small hardcover, so it went a lot faster than 245 would normally go...)
Genre:
Fiction
Source:
My bookshelf
Why I picked it up:
It was in a box of books my friend Christy gave to me, and it's been sitting on my shelf ever since!
What you'll love:
I didn't really love anything - but I thought it was interesting the way the recipes tied into the storyline.
What will bug you:
The story is a little odd.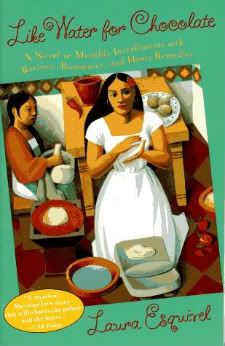 As I said above, I have had this book on the shelf for quite some time. Christy came to work one day with a big box-o-books and gave me first dibs before she put them on the teacher's room bookshelf. I took a bunch!
So there it sat. Like Water for Chocolate. I think I kept putting it off because I disliked Malinche so much back in 2009. At the end of 2010 I decided enough was enough and I put Like Water for Chocolate on my challenge list for Roof Beam Reader's TBR challenge. As promised, although I won't meet the December 31 deadline, I am still working my way through my challenges. So there's the story of how I picked up Like Water for Chocolate.
Oh, and also I am engrossed in the "Song of Ice and Fire" (Game of Thrones) series but know myself well enough to recognize I get bored with series. So I decided to insert a little book in between Game of Thrones and Clash of Kings.
It was "meh". I didn't dislike it, but I didn't really love it either.
I thought it was interesting the way the recipes tied into the main storyline. That's a neat idea. The book was just kind of odd though. I couldn't get past it. Your true love gives you roses, you make some rose sauce recipe, your sister eats it and is overcome with sexual desire and runs naked to have sex with some general in the army and then joins a brothel? Really? Something's a little off there. Maybe because it's so out of the blue? And this is from a girl who loves Lord of the Rings. I accept a book where there are elves and hobbits and a ring to rule them all. But I can't quite swallow the sex inducing roses.
I'm glad I finally read it. I'm really glad it was such a fast read. It was light and actually kind of welcome these past two days. Even though it made me roll my eyes.