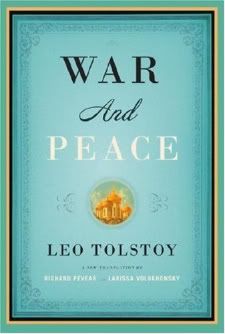 I am reading War and Peace throughout 2011 as part of a challenge hosted by Jillian at "A Room of One's Own". Since I got a little behind in my reading you're getting two posts in one! (Lucky you..) If you want to hear what I have to say about the first 120 chapters, click here to read discussion 1 and here to read discussion 2.
I'm not giving much thought as to what qualifies as a spoiler and what does not. Keep that in mind if you plan on reading this and want to be surprised! This post is certainly not as detailed as it should be. It's my own fault for skipping discussion 3 - too much has happened to be thorough. My apologies.
A lot has happened since my last post. Natasha and Prince Andrei have really come full circle at this point. Of course they enter into a courtship and become engaged. Prince Andrei's father (aka the grumpiest character in this book) requires them to be engaged for a year while Prince Andrei goes away in order to receive his blessing. Natasha's head is turned by Helene's brother, Anatole. They make a secret arrangement to run away togethe
r, but are foiled by Sonya who gives away the secret. Pierre has to break the news to Natasha that Anatole is actually already married to another woman. He then goes to Anatole and angrily orders him out of Moscow. Prince Andrei finds out about this and the engagement is broken between the two of them. Natasha feels horrible and becomes quite ill. It is here where Pierre's feelings for Natasha are clear to the reader. Fast forward oodles of chapters and we find Prince Andrei seriously wounded and traveling with the Rostov family as they leave Moscow. When Natasha finds out, she goes to Prince Andrei in the night to sit by his side. His anger for her seems to have disappeared, as he is glad to see her.
It's hard to understand this whole situation. Natasha is a young woman. Is it really that unreasonable or that surprising that she is able to be persuaded by another man? Especially this Anatole person - who sounds like a real player and jerk. Helene's brother what do you expect? I understand Prince Andrei being upset, a perfectly reasonable reaction. However, the fact that their entire relationship dissolves is strange to me. It's hard to imagine a time when options were so limited for women.
Pierre is having some serious problems with Helene. That marriage was doomed from the start. She's kind of trashy and is obviously "spending her time" (wink, wink) with men left and right. She tries to get her marriage annulled by the church, and could care less about Pierre. Since the fiasco with Prince Andrei, Pierre is quite preoccupied with Natasha. Tolstoy has set up this epic love story between these two characters and I'm excited to see how it continues.
Old Prince Bolkonsky dies. I can't say I'm sad to see him go. I really disliked him as a character. Sour, grouchy, he thinks he is the center of the universe. He does not cut his daughter any slack at all. It takes a lot to get Marya to see the state of affairs in her region. I'm glad she is finally persuaded to leave Bald Hills for safer ground.
I still don't enjoy reading the battlefield scenes, preferring the "peace" sections to the "war". I'm still struck by the fact that this story is so accessible. The time span is huge, which is why the book is so massive - but the story itself is wonderful. I'm so glad to be reading it, finally. I think part of my enjoyment is that I really like the translation I'm reading by Richard Pevear and Larissa Volokhonsky. I got stuck at work last spring having to be with my students in the library. I really had very little to do because they were so engaged in their work (which is fantastic!) so I grabbed a copy of War and Peace and found where I left off at home. It made me realize that the translation I'm reading flows very nicely, and is able to pick up on some of the subtle things that could easily get lost in translation.
Onward. Hopefully you'll hear from me again 60 chapters or so, at the end of October!