Title:
The Secret Between Us
Author: Barbara Delinsky
Pages: 343
Genre: Fiction
Source: Audiobook (free for NH residents - all you need is a library card!)
What you'll love: Engaging story.
What will bug you: Some characters a little one-dimensional.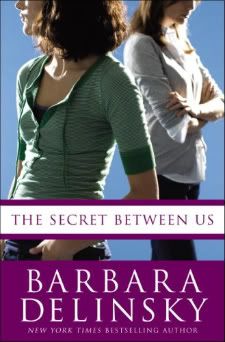 I've really come around on audiobooks. At first, I didn't think they'd hold my interest, but they really do. The Secret Between Us was no exception.
Deborah and her daughter, Grace, are driving home on a rainy night. Grace has her learner's permit and is at the wheel when suddenly a man is in front of the car. Grace slams on the brakes, and strikes the man. Authorities are called, and while Deborah - a doctor - stays with the victim, she asks Grace to run the two miles home to be with her younger son. When the police arrive, they assume that it was Deborah driving the car, and thinking that her record can shoulder this accident easier than her daughter's, Deborah does not correct them. This deviation from the truth grows and threatens to wedge between the relationship Deborah has with her daughter.
Overall, I enjoyed this story. It was very engaging and kept me anticipating what would happen next - which is a must for an audiobook because the lure of music in the car or on a walk is pretty strong.
My only complaint is that I found some of the characters to be a little one-dimensional. Deborah's father is gruff. It seems to be his only setting. Grace borders on hysteria and overreaction most of the time. Dylan, Deborah's younger son, is clingy and a little whiny. Of course this may have something to do with the narrator. Not that I'm complaining about the narrator - she was great - but it's possible she said some of Grace's lines with a panicked tone, and I would have read them in a normal voice.
Good story - devoured in a week!