Title:
The History of Love
Author: Nicole Krauss
Pages: 252
Genre: Fiction
Source: Christy!
What you'll love: Masterful intertwining of storylines.
What will bug you: Although I loved the ending. Really, I did. Part of me wishes things were left a little more settled.
Alma Singer is fourteen years old. She lives with her Mother and her brother, Bird. Her Father has passed away. She is desperately trying to remedy her Mother's loneliness. For a living, her Mother translates books, and she is currently working on a special project - translating The History of Love. This book has special meaning for her and and her late husband, and since Alma knows this, she decides to go in search of the book's author, thinking it may be the key to her Mother's renewed happiness.
Leo Gursky lives alone in New York City. Sixty years ago in Poland, he lost the love of his life. She has been in his heart all these years, inspiring him to write a book. He isn't aware, but his book has survived for generations, touching hearts and changing lives.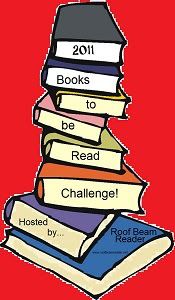 I have The History of Love on loan from my friend, Christy. It's been sitting on my shelf for awhile, but Adam's TBR challenge at "Roof Beam Reader" finally kicked me into gear to read it.
This was such a wonderful story. It's fascinating to see how the different parts of the story intertwine. I'm really attracted to books like this - where gradually pieces of a puzzle begin coming into focus. Leo and Alma are two completely different characters yet they begin moving in the same direction.
My only complaint about the story is that I feel like there some unanswered questions at the end. Of course
there's Leo and Alma - at the end I wanted just a little more. I also felt a little unresolved with Bird and what happens to him. I felt like the last sequence of the book left me with more questions than answers.
The writing is beautiful. The format is very fluid. There is a lot of feeling in the text, especially the parts told from the point of view of Leo. He's a character I know I will remember for a long time.