Title:
Let the Great World Spin
Author: Colum McCann
Pages: 400
Genre: Literary Fiction
Source: Kindle
What you'll love: Amazingly distinct voices for each character.
What will bug you: Nothing.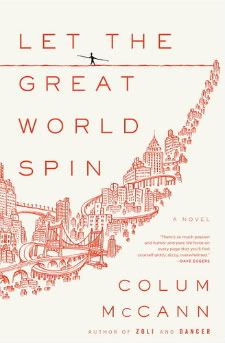 It's August, 1974. New York City. The Twin Towers are a new addition to the skyline, and early one morning, a man walks a tightrope strung between the buildings. A city that typically hums and pulsates with life stops. And watches.
Let the Great World Spin
is a collection of what seems like short stories, yet they all tie together. In some way, whether they were present to see the tightrope walker or not, each story can be linked to that morning.
Let me cut right to the chase. I loved this book. No doubt about it.
When I first heard about it, and certainly when I saw the cover, I assumed this was going to really be a story about this tightrope walker. I was wrong. It's a portrait of the city and the people who call it home. In some ways, it's similar to
The Grapes of Wrath
- meaning it gives an impression of a period and place.
One of the things that impressed me most about
Let the Great World Spin
is the way each story is told in such a distinct voice. Going back to the start of each chapter, all the reader needs to do is read a couple of sentences and the character is apparent. McCann's talent really shines through here - he's able to speak to the reader as an Irish man coming to the states to visit his brother. The chapter ends, and suddenly we're hearing from a hooker from the Bronx. The chapter ends, and now we're in an upper East side apartment with a woman who lost her son in Vietnam. This is talent! Fabulous writing.
The way the characters tie together is really impressive as well. Almost all of them intertwine in some way. I had great fun mapping out my table of contents with which character is "speaking" in each chapter. It's a amazing to see how some of the characters are connected even in small ways - the judge whose ruling ultimately sends so-and-so in the car with so-and-so. Neat.
I finished
Let the Great World Spin
a few days ago. It's been on my mind. I can't shake the story. I waited more than 24 hours before starting a new book. This is the mark of a fantastic read. It's a part of you even after the last word is read.