Title:
The Kitchen House
Author: Kathleen Grissom
Pages: 384
Genre: Fiction
Source: Audio book from NH Downloadable Books
What you'll love: A story that sticks with you long after the last word.
What will bug you: A book that keeps you on edge.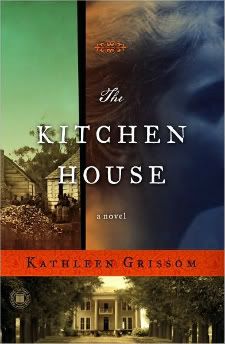 Lavinia, arrives at the Tall Oaks plantation as a young girl. She is an indentured servant - just arriving in the US from Ireland. Lavinia spends her time working in the kitchen house with the slaves of Tall O
aks, and develops a very strong bond with her new adopted family.
Life on the plantation is complicated for Lavinia. The plantation owner is often absent, and his wife is knee deep in an opium addiction.
As Lavinia grows up she is forced to choose where her true loyalties lie.
I listened to
The Kitchen House
on audio book over the course of the past week or two. This story stays with you. I found myself driving to work and then sitting in the parking lot for a few minutes to get to a good stopping place - and that's saying a lot when it's before 7am and the temperature's in the teens!
Whenever I read from this time period, I'm always struck by the confining lives of both the slave workers on the plantation, and also for women in general. The lack of choice, the inability to speak one's mind - it's so foreign to me, which I suppose is a good thing. Without giving much away, I'm thinking of a particular scene when Levinia comes to realize that black or white, when you're a woman, you're bound to your husband. With some obvious differences aside - I can see what she means.
I'm realizing that the major drawback to audio books is the inability to flip back for details. This leaves my reviews more sufracey than I'd like, but what can you do?
The Kitchen House
is on my list of
highly
recommend. It's the complete package. It's hard to put it down, there are moments where love is perfectly illustrated, there are moments when the reader feels rage and absolute hatred.
The audio book itself was very well done. Chapters alternate between the point of view of Levinia and Belle (The Captain's illegitimate daughter, working in the kitchen house). Aside from Levinia and Belle, each character had their own tone - superb reading!