Title:
Jane Eyre
Author: Charlotte Bronte
Pages: 524
Genre: Literary Fiction, Classic
Source: My bookshelf
What you'll love: Beautiful writing that is accessible, well written characters
What will bug you: Jane's experience at Lowood, and St. John in general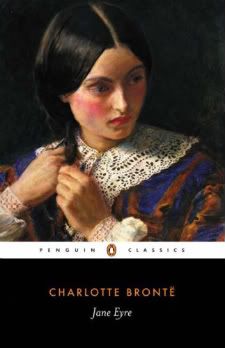 Jane Eyre
has been on my wishlist for quite awhile now - but after seeing this trailer for the new film version, I decided to start it right away.
Jane Eyre is an orphan living with her hateful aunt. She is soon sent to the Lowood School, a harsh boarding school for young girls. Despite the terrible conditions at Lowood, Jane grows into a thoughtful, respectful, and witty young woman. After working as a teacher at Lowood for two years, Jane accepts a position at Thornfield Hall as a governess. It is there she meets Mr. Rochester, her employer, and the eventual object of her affection. Secrets emerge which leave Jane cast out into the world without money or family - ultimately, her road to happiness is far from smooth.
Although it took me longer than expected to read, I really loved this book. I was expecting the writing to be more along the lines of Jane Austen. Although I love Austen, I find the language to be dense. Charlotte Bronte's writing, while certainly denser and more verbose than modern novels, was very accessible. I found the descriptions, and especially the dialogue to be very straightforward.
On to the story details.
Let's begin at the beginning, shall we?
Jane's aunt was just pure evil - there was nothing redeemable about her character. I've been trying to understand her unshakable hatred toward Jane, and I simply cannot. One of her major complaints about Jane was her strange and straightforward nature and spirit. I see this as a quality I'm happy to see in a child - although perhaps I'm viewing this through a 21st century lens?
The descriptions of Lowood were, at times, hard to read - especially knowing that Charlotte Bronte used her real-life experiences at boarding school as inspiration for Lowood. It's unbelievable to me that these schools existed - when they were clearly institutions of child abuse. (There goes my 21st century lens again, huh?)
There is so much focus on the "love story" part of Jane Eyre - however, I believe that at Lowood we begin to first see a second strong theme of the novel. Self-denial and regiment vs. nature and emotion.
The children of Lowood are taught to go against nature and feeling by strictly regimenting themselves and denying themselves basic human necessities (such as adequate nourishment and heat). The pupils are conforming at Lowood, whereas Jane's character is a child prone to emotion and outbursts - certainly not the norm for children at the time.
In the next portion of the novel, Jane's character undergoes a huge change. The person who arrives at Lowood is not the same as the person who leaves it. Jane arrives without having known love, companionship, or a home. She finds all of these things in her position as governess, her life at Thornfield Hall, and of course in Mr. Rochester.
Mr. Rochester represents unrestricted nature - he freely and openly loves Jane, and she feels the same (although she is still self-inflicting restraint in her affections). I loved the relationship between Jane and Mr. Rochester - they are two peas in a pod.
St. John reminded me so much of Mr. Brocklehurst it made me cringe. He is the opposite of Mr. Rochester. He is ridged, and completely denies his own pulls of passion (Miss Oliver) for what is logically a better choice (Jane). Not only does he ignore his own nature by denying himself what his heart seeks, but he ignores Jane's as well - expecting her to fit into the restraints of what he wishes her to be. I really detested him as a character. I was so relieved when Jane once again returned to Thornfield Hall.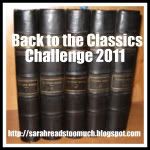 Jane's return was fabulously done. She is in a far better mental place than when she was to wed Mr. Rochester the first time. She understands what it means to have a home (both Thornfield Hall and Moor House), she is financially independent, and she feels of use to Mr. Rochester - not simply a decoration on his arm. Although it was painful at the time, Jane's journey away from Mr. Rochester and back again defines who she is. She is able to understand and accept her own nature. I think that if she had just married Mr. Rochester from the start, she would have lost much of her potential for self within their relationship.
I'm so glad I finally read this book! I'm sure it will be one that I revisit - and bonus (!!!) I can cross a book
off of my list for my Back to the Classics challenge, hosted by "Sarah Reads Too Much". I love it when that happens - read with a purpose in mind and finish thinking the experience was a pure delight!