Title:
Cat's Eye
Author: Margaret Atwood
Pages: 462
Genre: Fiction
Source: My lovely friend, Christy
What you'll love: Beautiful writing.
What will bug you: Anger at how mean girls can be.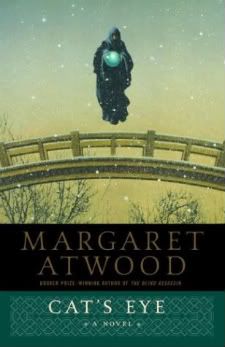 Elaine Risley returns to her hometown of Toronto because a gallery is doing a retrospective of her art. The story of Elaine unfolds to the reader - from her childhood through adulthood. Elaine must come to terms with her memories to understand herself.
My friend, Christy, cleaned her bookshelves a year or so ago - and luckily I reaped the benefits! I've had this book on my TBR list for a little over a year, and I'm angry with myself for having put off reading it for so long.
So, to give myself a kick in the pants, I listed this book as part of my TBR challenge - hosted by "Roof Beam Reader". A great start to my TBR list!
I think Margaret Atwood writes beautifully. I was trying to sum her up to Dennis the other night. Her stories evolve very organically, that is to say, there's no driving point to the plot. The story is never dull, so it is not meandering - it just blossoms. There is an undercurrent on where the plot is headed, but it's not in your face all the time. It took a little getting used to - and by this, my third Atwood novel, I'm hooked.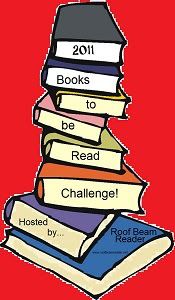 Elaine's experiences with her childhood "friends", Cordelia, Grace and Carol, shape her interactions for the rest of her life. It makes you contemplate how serious bullying is. These girls were not (as my Mother would say) true friends. Girls, in particular, are more adept at the psychological bullying.
The whole time, my mind was screaming "Tell an adult!" "Drop these girls - they suck." "You can make new, nicer friends.". There are so many cases where people seem to gravitate toward someone that is a poor match for them, for whatever reason. Why is this? I had a student once say that when they're with the bully, at least they can see/hear what's being used against them. If they turn away, it's all done behind their back.
Of course, Elaine hardens from all this schoolyard abuse. I found it odd that she exhibited
such selective memory when it came to recalling this part of her past. Or did she bury it so deep she actually did forget?
I loved how Elaine's art work ties into her past. Such a wonderful way for Atwood to tie everything together.
Such a fantastic novel! If it's on your list, don't put it off, as I have done! Dive in!