Title: Squirrel Seeks Chipmunk
Author: David Sedaris
Pages: 176
Audiobook Minutes: 3 hours
Genre: Fiction, Humor, Essays
Source: I won it from "Reading at the Beach"!!
What you'll love: Spot-on observations that make you laugh, and make you think.
What will bug you: Some of the essays are a bit dark.
Before I begin, let me extend a HUGE thank-you to Vicki over at "Reading at the Beach". She hosted this giveaway and I jumped at the chance to listen to this audiobook! There was celebrating in my house when I got the email saying I'd won! Thanks, Vicki!!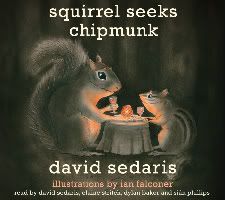 Squirrel Seeks Chipmunk
is a collection of essays which take human behavior - sometimes at its funniest, but often at its crudest and most brutal - and depicts the scenarios with animals instead of people. To quote the back of the CD jacket:
"If animals were more like us,
if mice kept pets and toads could cuss,
if dogs had wives an chipmunks dated,
sheep sat still and meditated,
then in the forest, field, and dairy
you might find this bestiary,
read by storks, by rats and kitties,
skimmed by cows with milk-stained titties.
'I found the book to be most droll,'
might quip the bear, the owl, the mole.
Others, though, would be more coarse.
'Bull,' could say the pig and horse.
As to the scribe, they'd quote the hen:
'Trust me, he's no La Fontaine.'"
I enjoyed this very much. I was told, and I agree completely, that David Sedaris is best enjoyed when you're listening to
him
read to you. His delivery is fantastic - I'd want it no other way!
All of the essays revealed the darker side of human nature - and it's brilliant and funny to use animals as the subjects. As you might expect, I enjoyed some of the essays more than others - my favorite being
The Toad, the Turtle, and the Duck
having a conversation about, what I'm assuming must be the line at the DMV.
This the perfect way to spend my commute these past few days. There were laugh-out-loud moments, and moments that had me shaking my head contemplating how self-serving some are.
Enjoy!