Title:
Sarah's Key
Author:
Tatiana de Rosnay
Pages:
320
Genre:
Fiction
Source:
My Kindle!
What you'll love:
Short chapters which bounce between 1942 and present day, making you want to read "just one more chapter...".
What will bug you:
I predicted the ending fairly early. Also, I thought Bertrand was a little one dimensional.
Julia Jarmond is a forty-five year old American woman who has spent the past twenty years living in Paris. She and her husband, Bertrand, have an eleven year old daughter, and she works as a journalist for an American tourist magazine. Julia has been assigned a piece covering the 60th anniversary of the Vel' d'Hiv' roundup - a time when thousands of Jewish families, including many children, were arrested and held at Velodrome d'Hiver, then transferred to Auschwitz.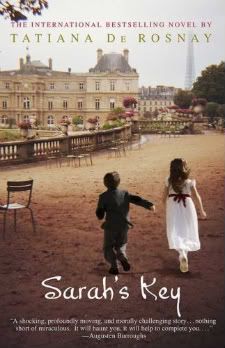 Julia learns that the apartment which she and her husband have recently acquired belonged to a Jewish family prior to their deportation. This prompts Julia to journey into the past uncovering much about her family, her country, and herself.
I enjoyed
Sarah's Key
. The first half of the book has chapters which alternate between Julia - present day, and Sarah (the little girl who inhabited the apartment Julia is about to move into) - in 1942. I had not heard of these particular round ups before, so it was a new piece of WWII history for me. I really liked the alternating of time periods - it had almost a Dan Brown feeling to it; short chapters bouncing around, making you want to push forward.
I enjoyed the chapters about Sarah much more than the chapters about Julia. I wish the story had spent more time with Sarah. I found Julia to be rather predictable. I figured out the outcome of the story pretty early on. I was a little... what?... annoyed?... perplexed?... about why Julia became so obsessed with Sarah and her family's story. It seemed like there were so many ways in which Julia was fixating on the past. It bothered me - made me feel irritated with her.
Julia's husband, Bertrand, was a pretty one dimensional guy. He was aloof, good looking and selfish. He had no redeeming qualities whatsoever.
Overall, it was a good story. Not a run-out-and-buy-it-today kind of story, but a good one for sure!