Once upon a time, in a house in Southern New Hampshire, a girl created a blog.

Monday will mark my one year blogiversary! On October 4, 2009, I created an account, grabbed a template and told the world (OK, my husband and my Mom...) all about "T
he Help".

How it all began



Upon graduating from college I realized I had time to actually read books

for pleasure.

I started keeping a book journal where I was basically reviewing my reads. This went on for quite a few years.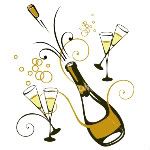 Last October I was raving to my husband about "The Help". I was almost finished reading it, and in preparation for its completion I had brought my journal downstairs and had it laying on the end table with my favorite blue pen. "Maybe you should start a blog." Dennis said.

I had never thought of it before. I didn't know much about blogging. I clicked around a little on the interwebz and realized - Wow! There are a lot of book blogs out there! I can do this! I finished my book, created an account and grabbed a quick template and wrote my review.



What I've learned this year



I have discovered a community of readers. It's been wonderful to read different blogs and see how other people felt about books that I've read. There are so many different perspectives out there - and this is such a fun way to talk about literature.

One of the most exciting moments this past year were when I started getting followers who were not members of my immediate family! There was some serious celebration in my house when I logged into my blogger dashboard and there was a name there I didn't recognize. I was absolutely thrilled!

I learned how to edit a template, and how to do some minor html code stuff.

I've spent much of my life being part of a community of musicians - which is wonderful. It's been so different and fun for me to expand the reader inside of myself.



Looking forward



I'm looking forward to starting year two! Many more books are waiting. There are a few things I'd like to start doing this year.

Posts that go beyond book reviews. I participate in a couple of memes, but I'd like to start putting myself out there a bit more.

Finally learn how to use twitter. I get how to send out a message... but I don't really understand the #topic or the @reply. I'll get there.

Participate in a read along.

Host a giveaway.

Continue reading all of your wonderful blogs!

So time to get started! Onward. Harry Potter 4 awaits - I'm more than halfway through, and I'm quickly remembering how much I love this story.

Looking back on the year - I'm so happy!