Title:
Body Surfing


Author:

Anita Shreve


Pages:

291


Genre:

Fiction


Source:

Borders Bargain Bin


What you'll love:

Well written characters.


What will bug you:

Leaves you wanting something.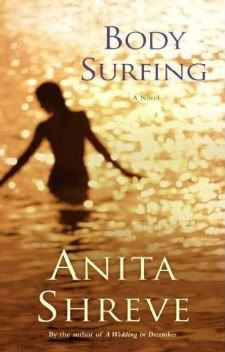 Sydney is a young woman who has been once divorced, and once widowed. She accepts a job as a summer tutor working with the Edwardses' daughter, and lives with them at their New Hampshire beach side cottage. Soon after her arrival at the cottage, grown sons Ben and Jeff Edwards spend the weekend.

Ben and Jeff are handsome, competitive, and quite taken with Sydney. Sydney finds herself caught in a love triangle with the two men.

For all of you who are fans of "The Pilot's Wife"... you'll smile. This story takes place in the same house. Being a New Hampshire girl myself, I love reading Anita Shreve because so many of her stories are set in places I'm familiar with.

I enjoyed this novel. The characters were well written. You feel as thought you inti
mately know them right off the bat. I especially liked the kind relationship between Sydney and Mr. Edwards.

The fact that it took place on the NH seacoast was perfect for the end August. The scenery Shreve writes is always striking.

The
ending caught me completely by surprise. **SPOILER ALERT** I didn't really understand Jeff. The lengths he goes to in order to hurt his brother are pretty unbelievable - that is, I'm not sure it's really plausible. That was one of the places I felt the story didn't keep me.

**OK - IT'S SAFE TO KEEP READING** When I put this book down, I felt similar to how I felt upon finishing "A Wedding in December". I enjoyed it, but it didn't really strike a chord with me.

A solid three.