Title:

Run


Author:

Ann Patchett


Pages:

295


Genre:

Fiction


Source:

Bookshelf in the Teacher's Room.


What you'll love:

No lingering questions - everything resolves.


What will bug you:

The Dad (Doyle) is a little obnoxious.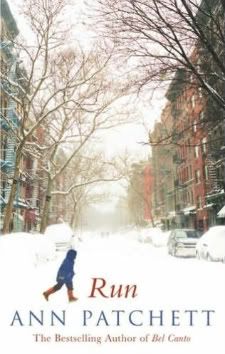 How lucky was I to snag this great book off of the bookshelf in the Teacher's Room? I grabbed it a few months ago, and it got bumped closer to the top of my TBR pile after Kathy reviewed it on her fabulous blog,

The Literary Amnesiac

. I agree with her final assessment - it's a reall
y great book. Not an omgyouneedtobuythistoday kind of book - but a really great book nonetheless.

The story takes place over the course of 24 hours. Tip and Teddy are the adopted sons of former mayor of Boston, Bernard Doyle. Doyle has been the sole caregiver to Tip and Teddy, as well as his other son, Sullivan, after Doyle's wife passes away.

As adults
, Doyle, Tip, and Teddy are out in a massive New England snowstorm. They have an argument which results in Tip almost being hit by a car. At the last second, a woman named Tennessee pushes him out of the way, which causes her to be hit instead. She is taken to the hospital and her daughter, Kenya, is being supervised by the Doyle family.

I really liked how the story took place over a 24 hour period. It really shows you how you can wake up in the morning, and by the end of the day - simply be receiving information, or meeting someone - your life can change.

The characters in this story were well written. I especially liked Kenya. This kid is made of tough stuff. I like that about her. She is a strong little girl, and even though she's only 11 years old, she is able to show these older men she meets so much.

The only character I didn't care for was Doyle. He was constantly pushing his children to follow in
his footsteps and pursue a life in public office. I was irritated that he was so unable to accept them for who they are. Isn't that a huge part of being a parent? Guiding your children to make good choices, and hope that they are able to choose a life path which leads them to happy, productive lives? It's not about making them into who you want them to be - it's about supporting and guiding them to find their own ideas of who they want to be.

A major th
eme throughout the story (besides family) was poverty and wealth. Especially in a city, it's amazing how the extremes reside so close to one another. It's equally amazing that often times the wealthy either don't really see those in poverty, or they see them as something they are trying to keep away from. Yes, of course there are people living in poverty because of poor choices (drugs, crime, etc.)
. I think that it's important to remember that just as often, people are living in these situations because some twist of fate landed them there. We can only control so much of what happens in our lives.

Overall, a very nice read. Fast paced, great characters, plot twists. All the makings of a really great book!