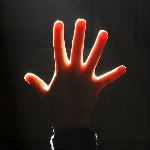 The Friday Five is a feature here at Kate's Library. In addition to reading some great books, I also read some great blog posts and articles. Here you will find my top five from this week. They are not all book related, but they all tickled my fancy!

1. Amy at "Lucky Number 13" wrote a post this week called

Alone

. In addition to some beautiful photos, she talks about her need to find a little alone time. I'm in total agreement! Even if it's a little bit of time, I love to have a little time alone!

2. Jennifer at "Girls Gone Reading" posted the

Top Ten Things to do with your Books

. Informative and useful!

3. A week or so ago, "The Sassy Curmudgeon" told us about a comical chest "enhancer" called the Wine Rack. It totally cracked me up. Of course she ordered it... and we have

What I Did Over My Summer Vacation or The One Where I Test-Drive the Wine Rack

. It didn't go as well as the advertisement promised. Isn't it amazing that this thing actually exists?!

4. Rebecca at "The Book Lady's Blog" has a term she uses which I love. "Pantyworthy". If a book/author/character/whatever is truly fabulous she calls it "pantyworthy" meaning you would throw your panties at it. (Think rock concerts and ladies throwing their panties up on the stage!) In

A Midsummer Night's Panty Party

she shares some pantyworthy characters - and what kind of panties they would probably be tossing!

5. So this is pure fun. "The Bitchy Waiter" did a post this week called

Bitchy Waiter + Marcia Brady = Love

.

The Bitchy Waiter sure does want a lot of info about Marcia's brother, Greg...

And there you have it. Have a happy Friday!