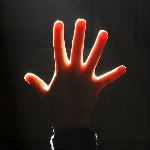 The Friday Five is a feature here at Kate's Library. In addition to reading some great books, I also read some great blogs and articles. Here you will find my top five from this week. They are not all book related, but they all tickled my fancy!

1. I'm so glad that Carin from "Caroline Bookbinder" shared this -

Jane Austen Fight Club

. I was in my room laughing out loud, and promptly went down to the next room to share with some friends. Enjoy!

2. Get ready! Misty over at "Book Rat" is gearing up for one of my favorite holidays - Halloween! Find out about all the fun she's brewing at

Open Call: Helluva Halloween II

. I'm pretty excited about it... I love all things fall, spooky, and Halloween-ish!

3. Over at "Whimsy" this week there are some lovely summer photos - I especially like the crab! She tells us that it's

Back to Real Life

- vacation is over... but those pictures make me look forward to some much needed beach time!

4. Jane Doe at "Dead White Guys" is spreading the blog love with

The Men Your Men Could Blog Like

. Links to some great book blogs written by the guys!

5. Another one from "Dead White Guys" -

Death to Bookish Snobbery

asks us what we do when we disagree with the personal life/views of an author. A very interesting topic with a variety of responses.

...and there are the five! I'm celebrating the least day of camp! Concerts tomorrow, then it's back to vacation... lots to do (including some serious relaxing) before the leaves begin to change.