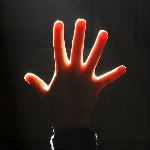 First off - we have some new followers here at Kate's Library this week! Welcome!!!

The Friday Five is a weekly feature here at Kate's Library. In addition to reading great books, I also love to read great blogs and articles. Below you will find the top five from this week. They are not all book related - but they all tickled my fancy!

1. I have to include "The Sassy Curmudgeon"'s post

Embarrassing Things That Make Me Cry, Other Than Night Ranger

. I also cry at Sarah McLachlan's ASPCA commercial. :( I also cry at the end of Willie Wonka. Oh - and is it just me, or is the beginning of "Up" really tough to get through with dry eyes? It wasn't on her list, but the kids watched it this week at camp a
nd I had to confess it makes my cry like a little girl.

2. "Caroline Bookbinder" reviewed

Orange is the New Black by Piper Kerman

. This is an example of why I love reading your blogs - I would have passed this book by in a bookstore, but after reading the review, I decided that it sounds really fascinating!

3. Rebecca at "The Book Lady's Blog" reviewed

Where's My Wand? by Eric Poole

. It is a memoir, telling the story of a boy who has not yet come to understand his sexual orientation, and discusses his quirky family
life. This sounds like a book that will really get you thinking - I love that!

4. A review over at "Bibliophiliac" of the book

Columbine, by Dave Cullen

. A very fascinating subject, and it sounds like a wonderful book. Another thought-provoking read to add to the TBR pile!

5. Roland posted

Mystery and Wonder

at "Writing in the Crosshairs" this week. It has stuck with me this week! As he tells of watching the movie version of a book he and his friends were hooked on, I kept pictur
ing John and Owen in A Prayer for Owen Meany! It's a lovely memory of coming together through reading!

...and because I'm in a good mood I will share a little bonus with you! :)

Below: my lovely residence for this week, and the next two. I'm working at a music camp (more on that later...).

Have a great weekend!