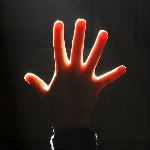 Welcome to The Friday Five!
The Friday Five is a weekly feature here at Kate's Library. In addition to reading great books, I also read great blogs and articles! Below you will find my top five from this week. They are not all book related - but they all tickled my fancy!

1. There was an interesting article on "Our Bodies Our Blog" this week all about gender and testing.

All Things Not Being Equal

points out that women are not "small men" and that they need to be tested equally when conducting research.

2. "The Bitchy Waiter" had a great post this week called

You Must Be 21 To Read This Post, Part II

. It's all about being out with someone who is

very much

under the age of 21, yet being served because they are so cool about ordering their drink. Dennis and I were out once when we were in college. We were 20 and having dinner in a brewery. Our waitress showed us the very extensive beer list, but because we were both under age we ordered coke. Only after we got our soft drinks did we notice the bouncer at the door checking ID's, which we had somehow eluded. We were so tempted to re-order some drinks, but chickened out.

3. I love it when someone posts about a book I normally wouldn't pick up - and I end up putting on my TBR list! There was a post on "At Home With Books" this week that made me do just that.

Lucky Girl by Mei-Ling

seems like a great read!

4. "Dead White Guys" asks a question this week... What is a Classic? Very interesting question! Certain books are in mind as "classics"... but how do they get that label? Bonus points for including a clip of Eddie Izzard, one of my favorite comedians! :)

5. I wish Priya was my teacher! Over at "The Plum Bean Project" this week she wrote a post called

Kids.

I love how obvious it is that she cares for her students.

Have a fun weekend, everyone - stay cool!