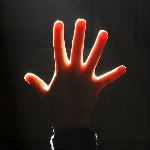 Welcome to The Friday Five!
The Friday Five is a weekly feature here at Kate's Library. In addition to reading great books, I also read great blogs and articles! Below you will find my top five from this week. They are not all book related - but they all tickled my fancy!

1. Sassy's post

Fun With Ladymags: Stupid Answers to Stupider Questions

made my day. As a general rule, if a magazine is marketed to females, I find it obnoxious. I get a little worked up about body image, and how we are really hurting ourselves as a gender, because we BUY all the ridiculous crap being pushed at us. In the checkout line at the grocery store I saw a magazine with a beautiful woman on the cover with the quote "How I lost 50 pounds!" Well - I went to high school with the girl. I confirmed it on Facebook... it was her on the cover. She's been beautiful and skinny since 6th grade when we met. Have I made my point?

2. Great post on "Literary Musings" this week called

If I Ever Meet Paulo Coelho

. It includes a fantastic link that outlines how to pronounce the names of our most mispronounced authors!

3. Fascinating post on "Caroline Bookbinder" about the art that goes on our book covers.

Art and Design: Judge A Book By Its Cover

was a very interesting glimpse into what exactly goes into making these attractive and eye catching covers.

4. Corinne at "Trains, Tutus, and Tea Time" helped us welcome the official arrival of

summer

this week. You need to check this out for the beautiful photos and vibrant covers. What is summer to you?

5. The post

Remembering Dad (with a book in his hands)

at "Bibliophiliac" has been with me all week. I loved hearing about her Father. Some of what she wrote made me think of my Grandfather - he was not a reader, but a "favorite with the nurses". I'm so glad to have had this glimpse of what seems to be a very special man!

Another week gone by - happy weekend, everyone!