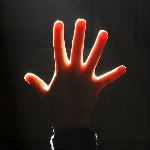 Welcome to The Friday Five!
The Friday Five is a weekly post in which I share with you the top five blog posts and/or articles I've read this week. Some are bookish, some are not - but all tickled my fancy!
1. Jess M. from
"Tangled Up in Blue"
(a newly discovered blog for me!) recently reviewed
I Am Legend

.
My husband read this book and loved it. It's in the back of my mind as part of my TBR pile. I saw the movie and thought it was fantastic - Will Smith (mmmmm.....) is such a great actor. He's come a long way from "The Fresh Prince". The book is, I've been told, different than the movie - and probably better, as is usually the case. I enjoyed hearing Jess' thoughts!
2. Oh, Sassy. You've done it again. I loved this post
Throwing in the Towel(s)
.
When Dennis and I first moved in together we had a very small, totally crappy apartment. We have great memories - figuring out this whole "out on your own" thing was a blast - but like I said, the apartment was not so great. Once, someone stole all of my towels from the dryer and I had to buy new ones. Dennis and I were laughing out loud when she describes some old roommates and what they did with a disgusting unwashed pot left in the sink. Been there - only I didn't put it on the curb.
3. I've been meaning to tell you about this site.
"Letters With Character".
You need to follow this site. Basically - it's a blog where people write letters to their favorite literary characters. Fantastic. Here's one to
Robert Langdon
of The Da Vinci Code. I love him, but have to agree - Robert Langdon is a total dork.
4. Chris at Serendipitous struck a chord with me this week with her post
Graduation Weekend

.
Being from a small town myself I really connected with what she had to say - and now as a teacher I found myself nodding as I was reading.
5. I recently started following Corinne at "Trains, Tutus and Tea time". She had a great post this week -
Smile.
Her writing is very real, very personal. I love it - and I have to admit that I feel excited when it shows up in my google reader. I admire anyone who is willing to write from the heart. Definitely click around on her site because her pictures are fantastic as well!
...and there you have it. Have a wonderful Father's Day weekend!