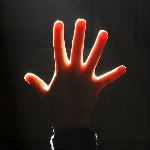 Welcome to The Friday Five!
The Friday Five is a weekly post in which I share with you the top five blog posts and/or articles I've read this week. Some are bookish, some are not - but all tickled my fancy!
1. What a great post on
"Things Mean A Lot"
this week! Ana started a conversation about objectivity versus subjectivity when writing about literature. Her post
On Writing About Books
got over 70 comments! It was fascinating to hear everyone's thoughts - so click away and join in the conversation!
2. Another post this week from
"Things Mean A Lot".
I added another book to my TBR list -
The Library at Night
sounds wonderful to me! This was a book I had not heard of, and I'm so glad to have read the review because I immediately put it on my list!
3.
The Sassy Curmudgeon
made me laugh this week with her post
How to Make an American Turd Yurt

.
I just love that she built this ridiculous thing while drinking wine and watching silly TV. I also love tootsie rolls.
4. Misty over at
"Book Rat"
shared some of Mark Twain's words about Jane Austen. Misty has us all asking,
What gives, Mark Twain?
5. Rebecca at
"The Book Lady's Blog"
reviewed a book that I was forced to immediately add to my TBR list.
Click: When We Knew We Were Feminists

.
I like the idea of having these "click" moments when you
just know
.
So there you have it - as always, Happy Friday!