Title: Wench
Author: Dolen Perkins-Valdez
Pages: 293
Genre: Fiction/Historical Fiction
What you'll love: An intimate connection with the characters.
What will bug you: Understanding Lizzie's feelings toward her master, Drayle.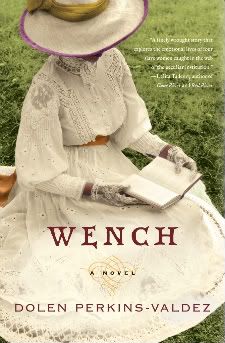 For me,
there's a simple test to see how much I enjoy a book. If I like it, I will finish, blog it right away, and then move on to the next in the nightstand pile. If I lov
e it, I can't think of doing anything with it right away. Maybe I'm selfish? I want to keep the story in my mind for a little while before writing about it, or m
oving on to a new book.

How did

Wench

measure up?

Loved it.

It only took me a chapter or two to realize I'm pretty lucky. A short while ago I received an email from HarperCollins Publishers asking if I would like to recei
ve a copy of

Wench

to review. The email said that if I enjoyed

The Help

, then this is a book I may also enjoy. They were soooo right.

Wench

was fantastic!

The story opens in 1852. Tawawa House is a resort in Ohio - free territory - where Southern white men vacat
ion with their slave mistresses. Lizzie, Reenie, and Swee
t have become close friends over the summers their masters have taken them to Tawawa House.

During the summer of 1852, the three women meet Mawu - the eventual fourth person in their circle. She talks of running away. Running away to these women means more than gaining
freedom. They would be leaving behind their friends and families, still in the South - and for one of them, it means breaking the emotional connection she feels with her master.

When a fire breaks out on the resort, a series of events unfold, leaving the women altered. The last sentence on the book jacket says it best - "...the women of Tawawa House soon learn that triumph and dehumanization
are inseparable and that love exists even in the most inhuman, brutal of circumstances - all while they
are bearing witness to the end of an era."

Dolen Perkins-Valdez writes beautifully. Similar to how I feel when reading Elizabeth Berg, within pages, you feel as though you intimately know the characters. You feel like you are

there

.



Wench

is not told from the perspective of any specific character, although the story was centered around Lizzie. I liked getting to know her character - she is the one I was trying to understand. She is obviously aware that she is a s
lave, and she is treated as a slave. However, she feel
s a love for her master. He seems to treat her well (aside from the fact t
hat she could obviously not have refused his advances). He is not a brutal man. My question for Lizzie was "are you living in a fantasy?" I felt frustrated that she seemed to not want to see that no matter what her ties are to her master (Drayle) he still viewed her as property.

The story is divided into four parts. The story opens up in 1852 - the summer before the climax of the story. Part two brings you back to 1842-1849. I loved this. You'r
e thrown into the present with this group of women without getting much background inform
ation. You form ideas about their character and personality. Then, you are yanked backward ten years to see how this all began. I had a few moments when reading that flashback section when I found myself thinking... "ohhhh - well now that makes sense."
The next tw
o sections are set in 1853, and then 1854. The summer of the fire, and the summer
after, respectively. Each character is on a path, and
it is so wonderful watching
how they ca
rry themselves along. What a great story.
This is Perkins-Valdez's first novel. Click here for more information about
this great new author!