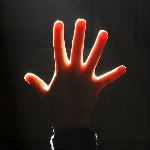 Welcome to The Friday Five!
The Friday Five is a weekly post in which I share with you the top five blog posts and/or articles I've read this week. Some are bookish, some are not - but all tickled my fancy!


What's that? It's Saturday? Yes, you're right - sorry about that. Allow me to go off topic for a little bit...

I'm proud to announce that I took my 7th and 8th grade orchestras to the Great East Festival yesterday! Basically, I take the students (our chorus came too - so around 135 kids and 19 adults) out to perform for a panel of adjudicators. They score our performance and the students receive a medal, which ranges from "Bronze", "Silver", "Gold" and "Platinum", depending on the score. My orchestra received a Platinum rating - which is totally exciting! I'm so proud of them!

The festival is in partnership with Six Flags, so after our performance, we all head over there for the day. Despite the fact that it was HOOOOT outside, we had a great day. The kids were proud of themselves, no one got hurt at the park, and most importantly - we came home with all the kids we left with! :) SUCCESS!

So - just for this week, my Friday Five has to become the Saturday Five.

Here it is!

Welcome to the Friday Five - Here are my five favorite blog posts I read this week. Some are book related, some not, but all tickled my fancy.

1. Rebecca at "The Book Lady's Blog" has a very interesting post this week. She has a partnership with an independent bookseller, and recently the SIBA (Southern Independent Booksellers Alliance) is encouraging other booksellers to do the same. They're calling it "Get in bed with a Book Blogger" and I think it's such a neat idea!

2. A beautiful picture of some

violets

at "Serendipitous". One of my favorite flowers - our yard has lots of white ones that pop up all over the place in the springtime. My Gram called me this week to tell me that she picked some from

her

yard and put them in a little mini vase in front of a picture of her mother.

3. The post

Soon and Very Soon

over at a newly discovered blog (for me!) "Bibliophiliac"

made me laugh out loud! I'm in the same situation. That could be a picture of my own nightstand, and I'm thinking the same thing... only a few more weeks of school and then I'll be free to dive into that pile! Just 18 more days and 7 concerts to go...

4. A post that is near to my heart over at "Fed Up With Lunch" called

Kids and Body Image

.

5. Another book to add to the nightstand pile...

Just in Case

by Meg Rosoff. This is a great review from "Things Mean A Lot" because it got me interested in the book!

As always, these are in no particular order - happy reading, and happy weekend!!!