Title: Shot to Death
Author: Stephen D. Rogers
Pages: 257
Genre: Suspense
What you'll love: A "New England" feel.
What will bug you: Characters that come out of no where at the end, and some things left unexplained.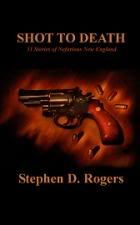 There was much celebration in my house when I received an email from Stephen D. Rogers. He asked me if, as a book reviewer from New England, would I like to receive a copy of his new book

Shot to Death

to review? I answered with an enthusiastic "Yes!" I promptly called my Mom to tell her I've "hit the big time". :)


Shot to Death
is a collection of 31 short mystery/suspense stories set in New England.

I do not typically read mystery novels. (Stephen King is an exception!) I found
Shot to Death
an interesting read because it was set in New England, and because the stories were so short it was convenient for me to read on this particularly busy week. Each story is interesting and different. I liked that the stories were told from the perspective of different characters - cops, the "bad guys", private investigators.

My complaint about the book is that there were a few times where there was a plot twist involving a character that seems to come out of nowhere - but this is probably typical of short stories, especially in the mystery genre. Also, there were often things left unexplained. "I moved up in the business." Well, what business?

Overall, a pretty good book, and an honor to have been asked to review! Thanks Stephen!