Genre: Fiction, Horror, Suspense
What you'll love: The scariest and most "real" character you've ever met.
What will bug you: The "story within the story" wasn't so great.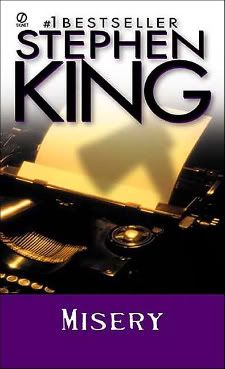 When I was young, I was not afraid of the boogey man in my closet, or the monster under my bed. I was afraid of the psychopath lurking in the woods. Even little kids know deep down that the boogey man and the monster are a bunch of bologna. But crazy happens every day, kids.
I didn't know it at the time, but I was afraid of Annie Wilkes. Stephen King has created one of the most terrifying characters I've ever encountered, and it's because she's so

real

.
In "Misery", Paul Sheldon is a bestselling historical romance writer. He wakes up after a car accident in a secluded house in Colorado in the worst pain of his life, and he knows immediately that his trouble went deeper than the pain in his legs. He has been saved by Annie Wilkes, his "number one fan".
Annie is an ex-nurse. Annie has very concrete ideas about right/wrong, fair/unfair. Annie is completely insane. After reading Paul's newest novel in his famous "Misery" series, Annie discovers that her favorite character, Misery, has been killed off. She is enraged - and she has an idea. She forces Paul (wheelchair bound, and at this point, drug dependent) to write a novel - "Misery's Return" - just for her. His number one fan.
I am quickly becoming a "number one fan" of Stephen King. Annie scared the crap out of me!
I love the way Stephen King writes. I love how he shows the reader the inner thoughts of his characters. They are real. They are what I would be thinking if I were in Paul's shoes. They are all throughout the book.
He is a true storyteller. You are Paul Sheldon. My heart was racing every time his heart would be. About a quarter of the way through, I got to the gotta part of the story. I gotta stay up an extra 20 minutes to see how this all pans out. It kept going and I finished the book in a few days. This is a quick read, not because it's easy reading, or because it's short, but because it's captivating.
Annie is totally insane. She's a woman who can't even bring herself to curse ("You're a dirty birdie."
"I don't give a cockadoodie.") yet murder doesn't seem to ruffle her. Mentally ill is just the tip of the iceberg! My favorite part was when he really got to see a "low point" or "valley" in Annie's life. It was fascinating. And scary. There are people like this out there! This isn't a completely fabricated character - there are people like this. OK, maybe they're not holding authors hostage, but still...
The only thing that bothered me - and it's small - is that Stephen King includes excerpts of the
new "Misery" novel that Paul Sheldon is writing. I didn't care for it. I know it's essential to the storyline, but I just skimmed it. This is minor - and you may feel differently! Aunt Sandy?
Get this book. It's one of my new favorites!
Check it out on my astore where I get a teeny cut of the profit if you buy!