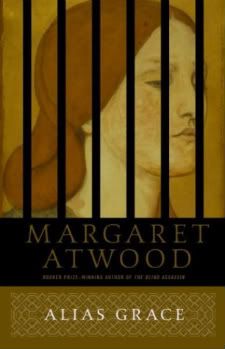 I just finished reading
Alias Grace
- a recommendation from my friend, Christy.
A work of historical fiction, Atwood tells the tale of Grace Marks, an Irish born immigrant and convicted murderess. After making the journey from Ireland to Canada as a young girl, Grace spends her life working in various households as a servant. She is accused alongside fellow household employee, James McDermott, of murdering her employer, Thomas Kinnear, and his housekeeper and mistress, Nancy Montgomery.
Grace is ser
ving a life sentence for this crime - a crime she claims to have no memory of committing.

There are many who believe that Grace is an innocent young woman, but there are just as many who believe her to be a bloodthirsty murderess. Dr. Simon Jordan is a young doctor who is working in the emerging field of mental illness. He is hoping that through his efforts he will be able to tap into these lost memories of Grace Marks, proving or disproving her involvement in these terrible murders.


I enjoyed this book - although I will admit it took almost 100 pages for the book to really grab me. Once Simon begins sitting down with Grac
e, she tells her life story. This is where I began to become much more interested in the book. I was not expecting there to be so much back story before the recollections surrounding the murders. I liked hearing all about Grace's life - it helped the reader believe that you really know the kind of person she is.
Overall, this was a good book.

There were a few things about it that drove me a little crazy though.


First, for most of the book, Atwood does not use quotation marks when the charac
ters are speaking. This drives me a little nuts. I've read other books that do this. Why? Does anyone know? It took a little getting used to.


Second, I felt like there was a large portion of the book devoted to Simon - yet he was not a central character in the end. A lot of this could have been left out and cut out many of the 460 pages! During these chapters I found myself skimming ahead to see when we got back to the "Grace part" of the story. It's not that he was not an interesting character - but for all the time tha
t was spent on him, I was hoping for him to be more involved with the end of the story. I'm trying very hard not to give anything away here...


Third, as I said above, it was a slow start for me. It was not the kind of story that grabbed me right away - although I will say that once I was sucked in, I was really sucked in!


All in all, the book was good, not a "drop what you're doing and buy it" kind of story, but certainly worth reading. I'm glad
I
read it. This is my first experience with Margaret Atwood, and I have to say that her writing is lovely. When Grace was telling her tale, I was really immersed in the scenery. I think it's going to become one of those books where I hear the title, and can immediately picture the landscape where the story takes place.
Four wine glasses!